By Emily Heffter
Zillow Blog will provide a recap of NBC's new home renovation show, "
American Dream Builders
," hosted by celebrity designer Nate Berkus. Zillow is proud to be partnered with the show in its debut season. The show usually airs Sunday nights at 8 p.m. ET (7 p.m. CT), though this episode has a special showing on Monday, April 7.

This week on NBC's home renovation reality show "American Dream Builders," the teams head into the woods, to
Big Bear
, Calif., to refurbish two 100-year-old family cabins. Both cabins are run-down and rustic, with detached sleeping quarters.
Team Blue's cabin belongs to the Uhle family and needs to be retrofitted so the grandmother of the family can access it in her wheelchair. Team Red's cabin belongs to the Murray family, whose primary concern is about mice.
Both families have been visiting the cabins for decades, and they want the homes to be in good shape for the next generation.
Team Blue
Team Blue is charmed by the Uhle cabin, which has a covered porch supported by four unfinished timbers.
"Look! A tin roof!"
Elaine
exclaims as they drive up.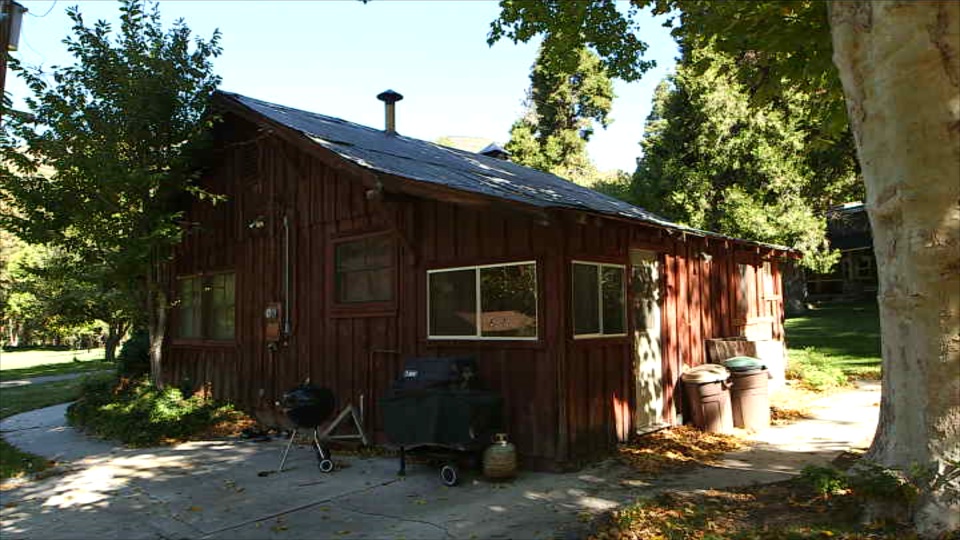 Darren
, the site manager, says he is taking a hands-off leadership approach.
"I just want to let other people spend their energy doing what they want to do, and not try to micromanage the whole operation," he says.
After checking out their space, Team Blue makes three goals:
• Make the home wheelchair accessible.
• Create a great outdoor space.
• Repurpose outdoor items.
After a tense week last week, Elaine says has spoken with her psychic, and is focused on positivity.
But she is critical of Darren when he assigns her the dining room and
Nina
the living room, since they are essentially the same space.
"He gave me the dining room, which shows that Darren knows nothing about design. ... He should have assigned one person the living and dining," she says.
Darren takes on his first indoor space - a fully-accessible kitchen with wider doorways and lower counters.
Andrew
gets to work on one of the outdoor sleeping cabins. "I want it to be the city meets cabin chic," he says.
Team Red
Team Red has a log cabin to refurbish, and it includes three outdoor sleeping cabins.
Dann
is the site manager, and he starts by giving the team a pep talk.
"We are staying together," he says. "None of us is going home this week. Let's stay focused on winning."
They make three goals:
• Create more sleeping space.
• Unify cabins with color scheme.
• Modernize the kitchen.
As soon as they get to work inside the kitchen, they find lots of dead mice.
"The bodies are stacked up. It was like mousy Armageddon," says Dann.
Vanessa
takes the smallest cabin and starts making plans to create a master bedroom out of it.
"I'm not really an outdoorsy person," she says, "so my vision for this week is ... I don't know."
She ends up trying to make the cabin more "cozy" by taking out one of two windows - the one overlooking the river.
Lukas
begins using a tree branch and Christmas lights to create a chandelier in his cabin's covered porch. He also plans a kitchen remodel, keeping the old-fashioned stove but adding floating shelves, new counters and other updates.
"We are super fortunate to have Lukas on our team,"
Erinn
gushes. "I respect him so much."
Dann chooses to paint the cabin's exterior an olive green, and as soon as it goes on, other team members have doubts.
"This looks like guacamole," says Vanessa, and Lukas compares the color to "this big frog."
Dann is confident. "Color is very subjective, so I've taken a calculated risk," he says. "I know that people will be surprised by the color."
But members of the other team believe it's too much of a surprise. As Jay walks by the home he inquires, "Is this the primer? ... I can't wait for the judges to see this color!"
Judges Check Progress:
Team Red's color choice is a big concern right away. "It terrifies me," says show host
Nate Berkus
.
Vanessa shows off her tiny master suite, but the judges are disappointed she traded the view from the bedroom for a little more privacy.
"My biggest concern is covering up that window," says judge
Monica Pedersen
. "Who covers up the view? I thought that was a huge, huge miss."
On Team Blue, Darren is really laid back about leadership, which raises Nate's eyebrows. "I haven't really said jack," Darren tells the judges.
But in the main cabin, Darren's work to
make the kitchen ADA accessible
is impressive, and they are excited about Nina's vision for the great room, with trees and additional river rock.
Nate questions Andrew's color palette in the guest bedroom: cream, pink and brown.
"Andrew's colors are freaking me out a little bit," Nate says. "It seems a little too sophisticated for a cabin."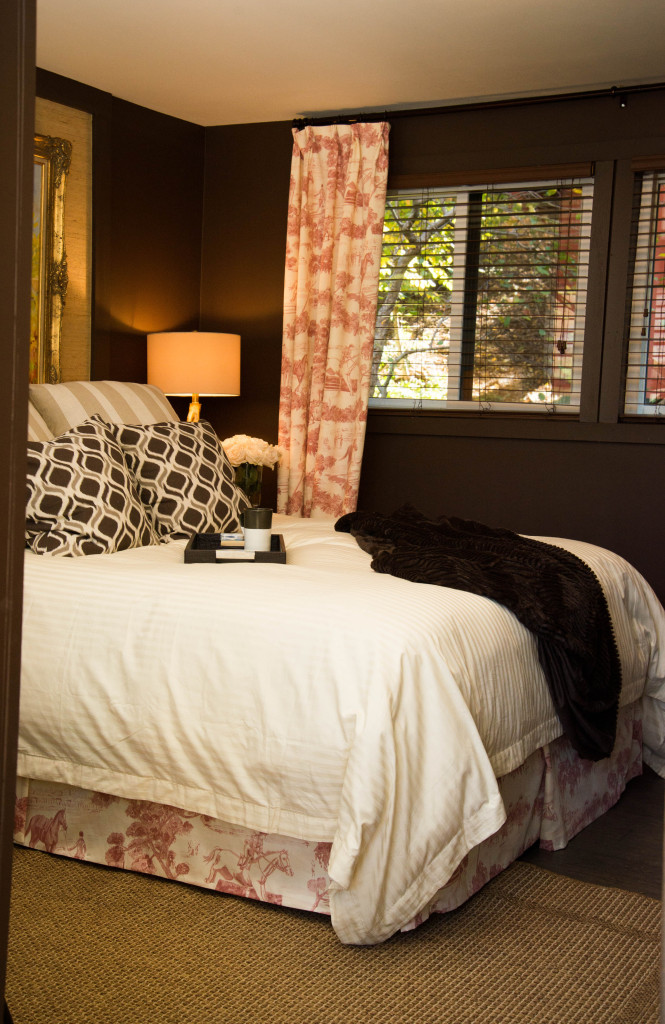 After the judges leave, Team Blue seems to fall apart. Darren will not help
Jay
with the landscaping, and Elaine refuses to help with the dining room when Nina's trees look funny propped up in the corners.
Andrew says the concept for his room "just kind of got watered down."
Elaine is critical of Jay's work on the landscaping. She calls it "a hot, horticultural mess."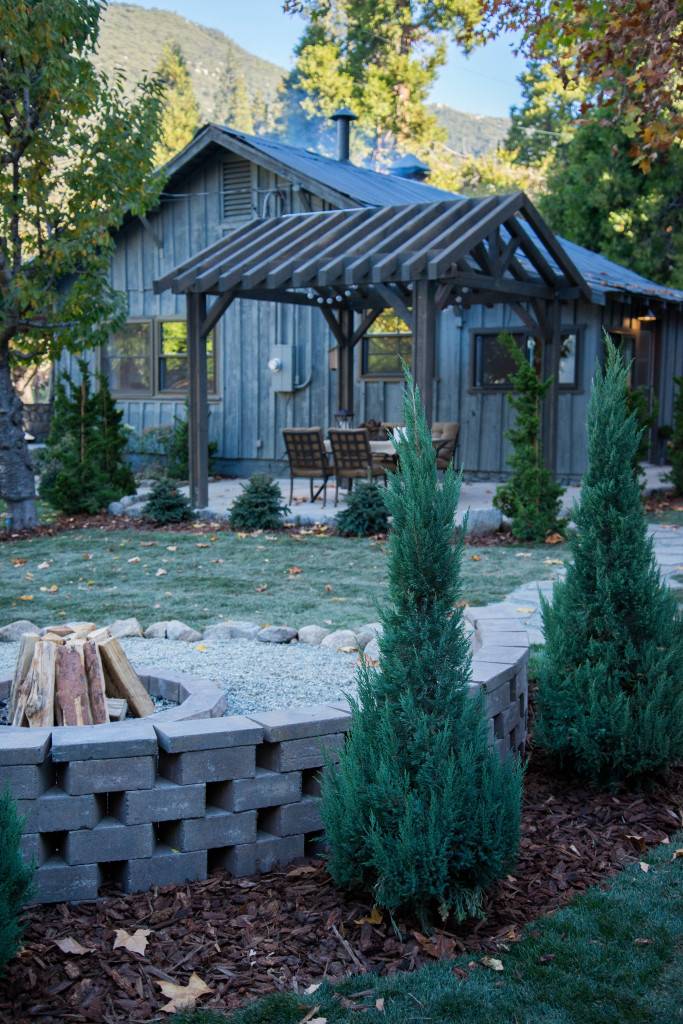 Reveal
The judges tour Team Red's house first. Lukas blows them away with another creative chandelier, this time floating above comfortable furniture in the home's covered porch.
"This is what we were talking about," said Monica. "We want to see restoring old glory, but yet, bringing in high-end design. So well done."
The judges like the living room that Erinn designed, which they say is not over-styled, and retained the family's taxidermy.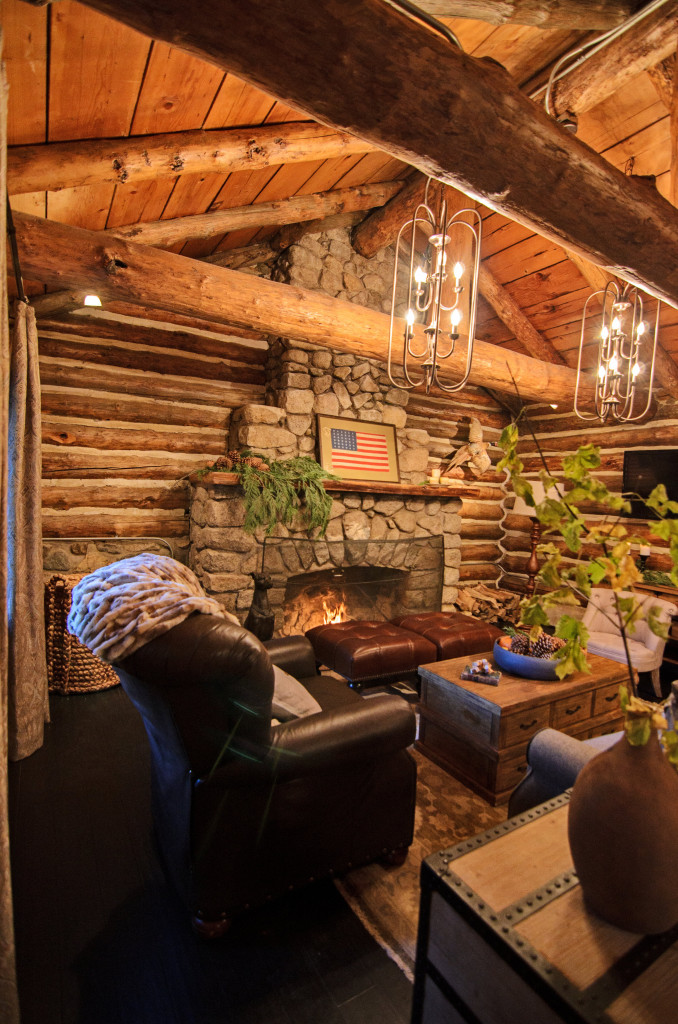 In the dining room, Vanessa has refashioned the home's original dining table, and judge
Eddie George
loves it.
"It's clean, it's open. The lighting is perfect," he says.
Lukas' kitchen is also a big hit, with stone counters and light-colored, floating shelves that let the cabin's log construction show through.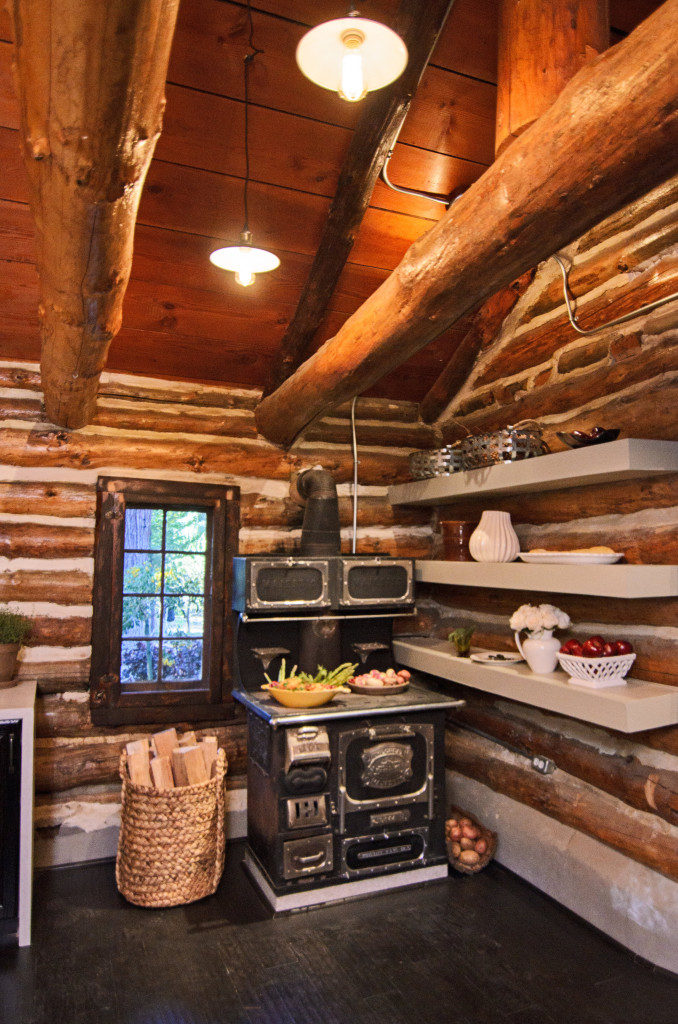 Their biggest complaint is in Vanessa's master cabin, and they really think covering up the window is, as Eddie put it, "a big-time mistake."
They loved Dann's sleeping cabin, and said Dann should have helped Vanessa with her cabin.
Eddie likes the green house color, and Nate declares himself "torn."
In Team Blue's house, the judges admire Nina's use of stone to extend the fireplace texture.
"I love the intimacy. I love the European sort of chairs. I love some of the patterns that they used and how they layered them," Nate says.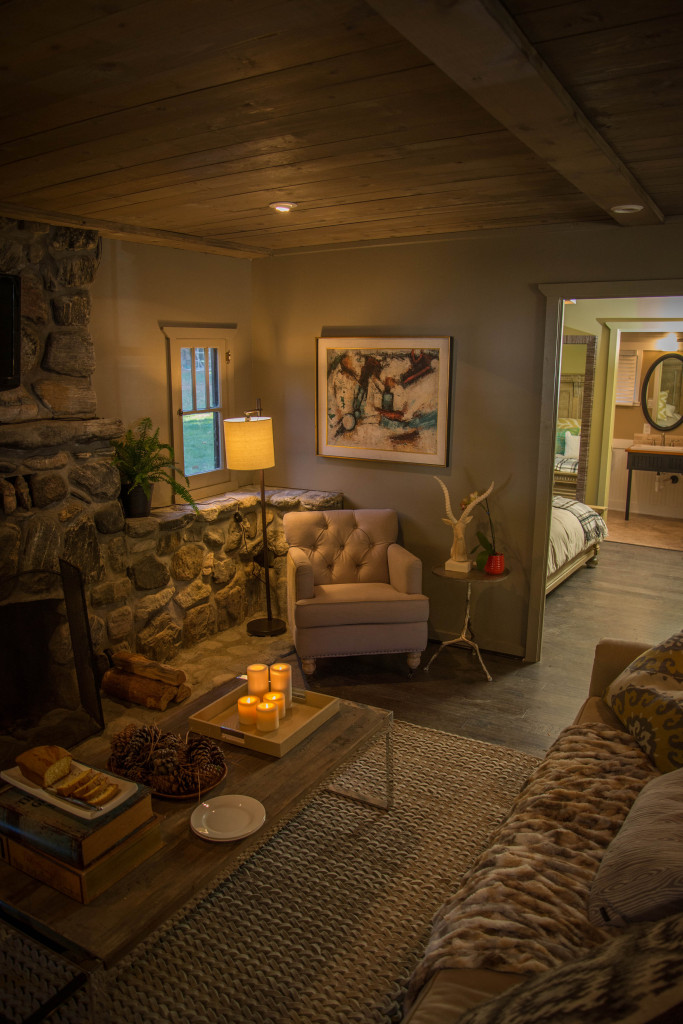 But the zebra-print chairs in the dining room don't work, they say, and they don't like the trees Nina propped up in the dining room.
"It's like a Charlie Brown Christmas story and the branches are at the eye level of the kids," says Nate.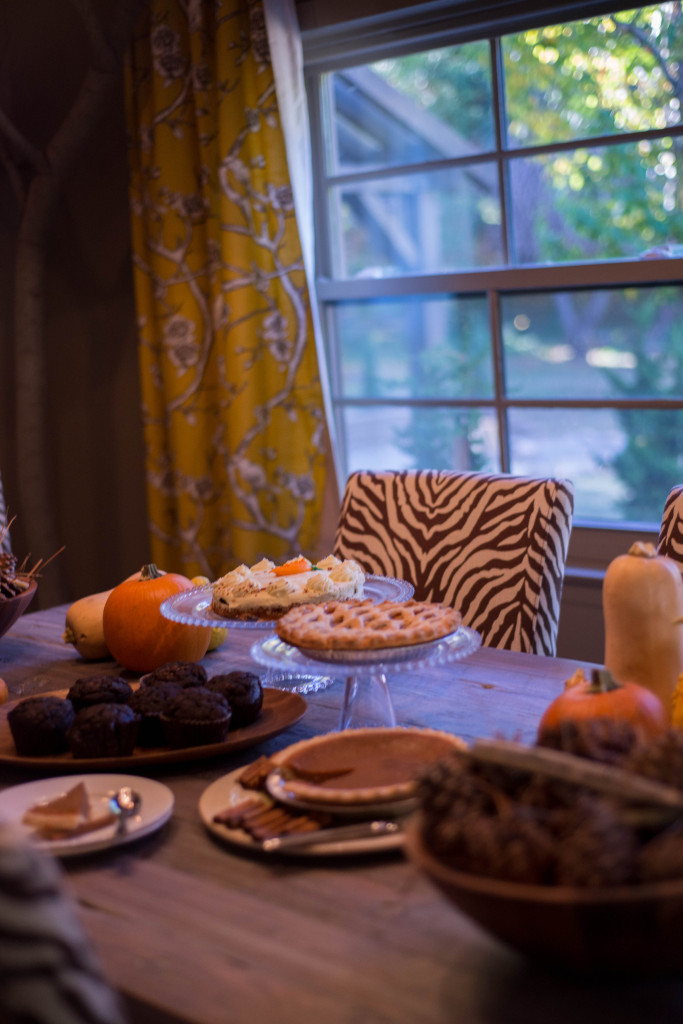 They admire Darren's kitchen, which he made wheelchair accessible for Mary. "He shined," Monica says.
But they are lukewarm about the bedrooms designed by Elaine and Andrew. Andrew's room was too disjointed, they said, and Nate says he was "not blown away" by what Elaine put together.
Jay's landscaping, pergola and plants are well-done, though, and Nate loves the swing they added.
"This is so fun!" he says.
The teams go before the judges. Monica applauds Dann for the exterior color choice, calling it a "huge risk." Eddie says the color brought intimacy and worked well with the environment.
Nate says the kitchen Lukas created was "one of the coolest I've ever seen." The weakest creation on their team was Vanessa's cabin.
The trees in Team Blue's dining room were an issue. Nate says the idea didn't work. "Nina, I almost poked my eye out," Eddie says.
The color combination in Andrew's bedroom did not work for the judges. "It was more sex in the city versus sex in the country," Eddie adds.
The neighborhood council liked Team Red's choice of cabin color. It made them stop in their tracks. Their favorite room was Dann's bedroom.
The council loved Team Blue's kitchen and fireplace. But didn't like Andrew's room or Nina's sticks in the dining room.
The judges declare Team Red the winner.
Nate says the fabric choice in Andrew's room and the dining room were the major issues. Nina says she wasn't responsible for the dining room, that she was just helping Elaine.
Nate says this is the hardest decision so far, but every other room stood out except Andrew's. And Nina should have realized the sticks would not work in the space. "When in doubt, cut it out," Nate says. He also notes that Darren's allocation of responsibilities was choppy this week.
But the weakest point for the team was Andrew's bedroom. "Your room was not memorable. In fact, it was forgettable," Nate says. Andrew is eliminated.
The owners are thrilled with their new rustic spaces. The lowered window in Team Blue's kitchen makes the Uhle family's grandmother tear up. Being able to see the view again, means a lot, she says. Each cabin also has increases in its estimated value, thanks to updated interiors and new landscaping.
Before the show, the homes were estimated by Zillow to have a lower market value than
similar homes in the neighborhood
. But the Zestimate® home value should increase, following an appraiser's inspection of the remodeled home that takes into account special features, location and market conditions.
What did you think about
episode 4
? Leave your thoughts in the comments section!
If you missed the episode, you can watch the show online on
nbc.com
or Hulu Plus.